Gallery
> Earlier Paintings, Projects and Installation Gallery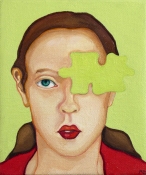 PUZZLE PORTRAITS
I have painted 6 portraits of artists, each portrait being composed of two paintings. The first painting is in color and the second is in black & white.
---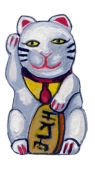 ICONOGRAPHICS PROJECT
The Iconographics are miniature still life portraits. The measure 2" x 3". The medium is gouache on paper.
---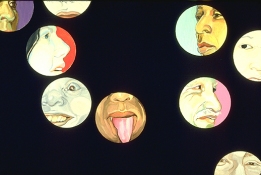 FACE PAINTINGS/INSTALLATION
I completed over 100 oil paintings of cropped and fragmented portraits on 4" diameter bar coasters. A site-specific Face Installation was created for the Queens Theatre in the Park, located in Flushing Meadows Corona Park in the New York State Pavilion designed for the 1964 World's Fair.
---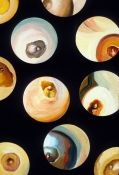 NIPPLE PAINTINGS/INSTALLATION
I completed over 50 individual, 4"round, oil paintings of nipples making up the Nipple Series Installation. Site-specific Face Installations were created for the PS 122 and Gallery Korea, NYC.
---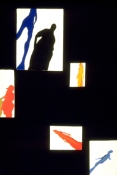 SHADOW PAINTINGS/INSTALLATION
I created 100 Shadow portraits from oil paint on wood and assembled them to create the Shadow Series. They range from 2" to 10" in diameter. A site-specific Shadow Installation was created for the Citibank Tower in Long Island City, NY.
---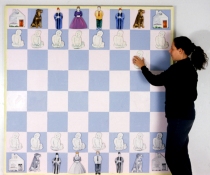 CHESS GAME
The Chess Game is an interactive painting. Each piece is designed to be fully moveable and playable on the board, The game board is canvas backed by metal. The pieces, including the pawns, kings, queens, rooks, knights and bishops, are paintings on wood backed with magnets.